Product guide published here contains all relevant elements, which should be considered before choosing the windows.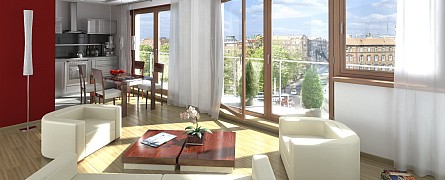 The main function of windows is to provide light, fresh air to the room and to protect from cold, winter and noise. Windows are also important to a building's architecture – the beauty of the facade and layout depends on them; therefore they should be both decorative and durable.
Nowadays it is standard, no matter what the material, for single-framed windows with thermoisolation glass. Mostly they have multi-point locking, allowing turn, tilt-and-turn and tilt-and-shift casement openning. Reliance on window hole height, single or double windows are rigged or (rarely) three or four casement. Windows may have flush casements (external casement surface after closure is even with frame surface) or non-flush with frame. In other cases the casement surface is slightly recessed towards the frame.
Different materials used for window manufacture have their own advantages and disadvantages. Quality and properties are defined not only by the material used for the window frame (it's worth noting similar price per square metre between wooden and PVC windows), but also: modern manufacture technology, finish diligence, glass, hardware, seals and other rig selection, along with installation. This is the reason why reputable suppliers' product portfolios contain glass, hardware, varnish and seal producers.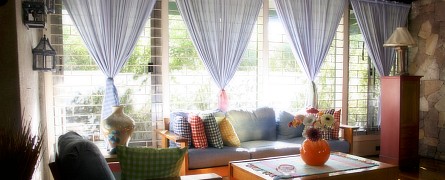 Thermal conductivity coefficient U is one of the major parameters which determines the quality in window production. In modern, energy-saving windows is equal 1,3 – 1,5 W/m sq.K. Such a low values are not always necessary, because thermal conductivity should be matched to a walls thermal conductivity. There is no need therefore to apply energy-saving glass in old buildings, where the walls are not properly insulated (up to '82 construction norms envisioned U equal 1,16; today 0,3).
If, for example, we want to replace windows in an old block of flats, then from a money saving point of view it is better to employ windows with U equal 2.0-2.6 W/m sq.K.
When we buy windows destined for a new-build, with other energy-saving technologies, they should have U as low as possible to avoid any undue heat loss.
Reputable thermoisolation set producers guarantee 5 years against defects in manufacture and materials, but it's worth to noting that a well made set should retain its properties for 20 years.
Rw (measured in dB) is the accoustic conductivity coefficient which tells us about external noise isolation.
Depending on the the building's location appropriate Rw value windows should be selected:
• windows far from noise source: 25 dB
• windows by a quiet residential road: 25-30 dB
• windows by a road with modest traffic levels: 30-35 dB
• windows by a main street: 35-40 dB
• windows by main traffic city street: above 40dB
The greatest effects on Rw coefficient are made by pane type: pane thickness, distance between glass pane, type of gas filling, even height and width proportions. A significant factor in the insulation of windows is the system of seals within the sash frame.
Every appartment must have freash air flow assured provided by window vents or special vents on the wall. Air permeated by closed windows is called air infiltration coefficient a.
Proper indoor microclimate equates to a = 0.5-1. A higher coefficient value means greater air flow and heat loss, lower means too low air exchange and causing a stifling atmosphere inside.
Modern windows have very low a values, equal to 0.1-0.3, which means that natural air flow is impeded.
The most common is leakage or microtilt applied by special hardware permiyting insignificant casement dilation with simultaneous lock. More complicated in construction are air vents embedded above the pane in casement or latticed vent fitted in the casement. Also tiny vents in the casement have become very popular nowadays. Thanks to these devices a user is able to control air flow without openning the window.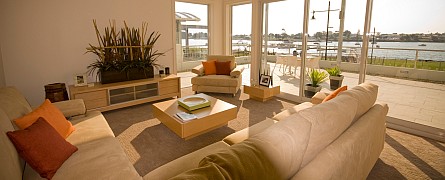 Dark frames absorb more heat, which can lead to premature wear and cause problems such as with opening. The dark layer of varnish on wooden windows, accumulates heat, speeds up aging and requires frequent maintenance. Also PVC windows with a very dark frame colour may (in larger sizes) lead to over-expansion of the framework (a dark frame is subject twice of heat exposure than a white frame).
Hardware used in the window handle mechanism must operate smoothly and easily, without unnecessary struggle. It is important to check and adjust it after a long period of use. Orbital hardware components should be in a place free of water and moisture.
Gradually becoming standard in the better classs windows is embedded anti-burglary hardware. The handle is augmented with a lock or latch anchorage opener.
Window seals must be made from materials that age slowly: silicone, ethylene-propylene rubber (EPDM) and silicone-rubber. They should withstand 5-10 years of use. After these few years of use seals may be replaced if necessary.
PVC profile windows can be double and three-celled. Gaskets are pushed into the grooves in the profiles – which can then be welded onto the edge of the profile. In the two-cell system one of the seals is mounted on the perimeter of the frame, the second on the adjoining wings. A 3-cell window's third seal is placed in the center of the notch of the wing. It is often a co-extruded profile. PVC windows with a flush window sash and frame the outer seal is protected from direct heat and sunlight. Flush mounting also prevents any possible freezing during the transitional area of the bottom of the wing to the seal on the outside of the frame.